So many things to do... and so little time left in October. Where did this month go?!
First things first... Check out what we be doin'!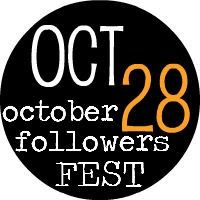 The long awaited
Followers Fest
is here! Click on over to 1 or all of the 4 ladies who are hosting this crazy meet up.
If you are visiting Thriftary a la
Followers Fest
... WELCOME! follow me and comment and I will be SURE to check out your stuffs. I love finding new blogs to drool over.
My good friend Laina over at
Recycled Interiors
featured the latest
"Goin' Mantel"
project on her blog. I am so honored! Please go over, check it out, and show her blog some Thriftary lovin'
I have no idea what to dress up as this weekend!
So first... go check out Mae's conundrum...
Now... Hear mine!
For the past 5 - 50 years I have dressed up as a bumble bee...
Here are a few examples...
2009 @ the Chicago Zoo
FYI: That is my ridiculously good looking husband, when he was my ridiculously good looking fiance. He thought I was cute even when I was pushing a stroller in a bee costume, with rain boots, in public.
2008 @ My parents' house. This was a rejected super hero party, and I played the part of "Buzz Kill" (hence the wings and machette). I walked around sulking and killing conversations with negative chi all night. You can think of me as Debbie Downer, but dressed as an insect with a weapon.
Burley's superhero was "The Flash." 'nuff said.

Now... I DID bring the bee costume to Denver, but I feel like turning over a new leaf. I want something more! something new! something different!
Any ideas?